Yippee! We are leaving next week to go to my mother's house in Michigan for a week.

We being me...




Drew...
And my vicious, rotten, epileptic dog Winter, who we call the Chicken, because he's afraid of everything, or The Brain, because he looks like The Brain from Pinky and the Brain...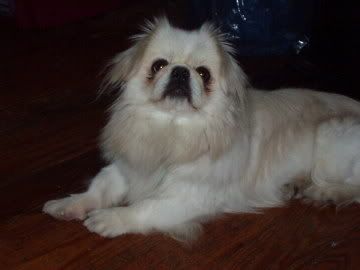 In order to fly the Chicken it costs $80 each way, plus you need a health certificate. And because everything freaks him out he needs valium for the ride as well, so the health certificate and drugs cost me $209. So the total comes to $369, which means it actually would have been cheaper to just buy him his own ticket and plop him in the seat next to us. But I love the little fucker and want him to have some fun in the country.
Anyway, we are far more excited than anyone should be about going to Michigan. Well, at least Drew and I are, I don't really know how the dog feels about it. Now I know you would like to picture me somewhere more exciting and exotic, but home is honestly where I want to go. I am tired of people and noise and I just want to sit in the woods for a little while. And I'm also tired of explaining what it's like where I come from so I'm going to give you a little pictorial blog.
Here is the back of my mom's house...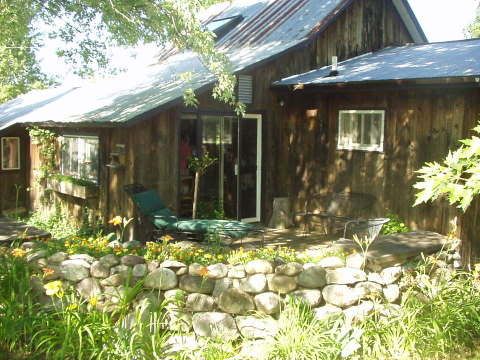 We will be spending a lot of time on this patio from the 9th through the 16th. Unfortunately I don't have a good picture of my mom in the computer, so I will just tell you that she has black hair and is quite gorgeous. She lives in Cedar, which is right near Lake Michigan and close to a lot of state parks. Cedar is right outside of Traverse City, where I grew up. Traverse City is a resort town, the cherry capital of the world (meaning most of the cherries you eat are grown there) and all sorts of very white Republican breeding types live and vacation there in the summer. Cedar and the surrounding areas are a little more hippie/new age (like my mom) and redneck (like the gun club down the road) and not so crowded up with golfers. Cedar has one stoplight and pretty much one street, but you can still get all sorts of vegan food and organic wines there.
My mom has 10 acres about five minutes out of the town. She is involved in all kinds of spiritual healing and crazy psychic stuff so she will be practicing new healing techniques on us when we are there and we will be getting readings from her friend Robert, who is a sweetheart and a wonderful psychic. Last year we got two great readings and had our DNA reactivated and our psychic caps removed. I can't wait to see what goes on this year.
This is the guest cottage we will sleep in...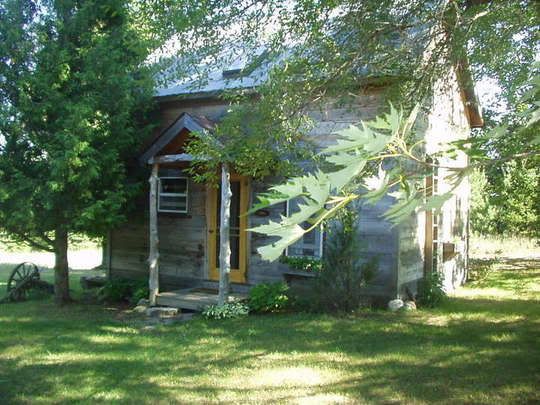 Notice the ladder on the side. My mother installed this ladder when my sister lived there, in the hope that someone would convince her to elope and get her out of the house.
Luckily, someone finally did. This is her and my brother-in-law, Scott...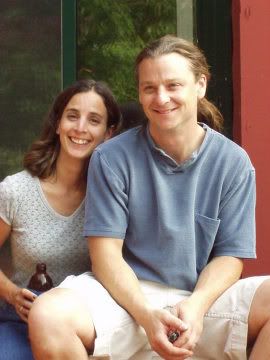 Here are a couple of shots of the inside of the cottage. I guess you would call it quaint. I call it NO PHONES FOR A WEEK. Okay that's not technically true because my mom has a phone and we have cells with no reception. But it feels cut off and that's a delightful feeling.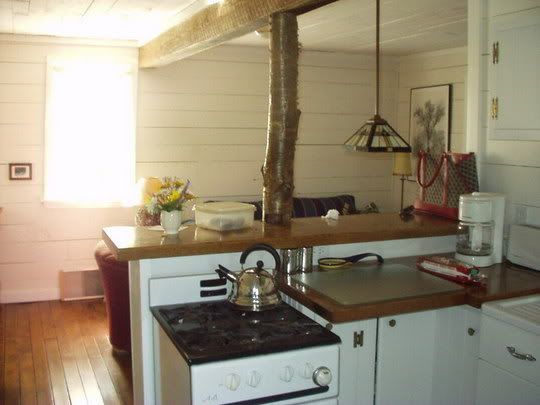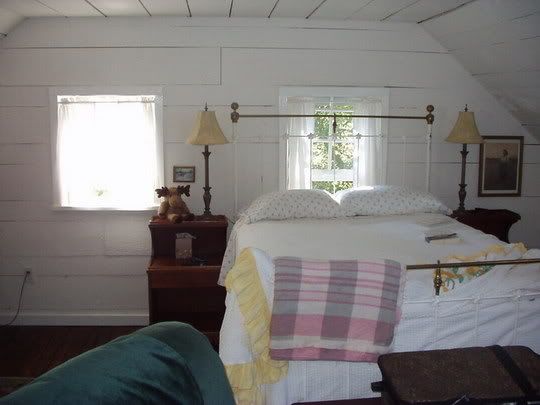 Here is my mom's spring-fed pond. It is jam-packed full of frogs and fish that jump and it's surrounded by beautiful willow trees. It's really magical. That is one of her Maltese dogs near the stream that runs near the pond.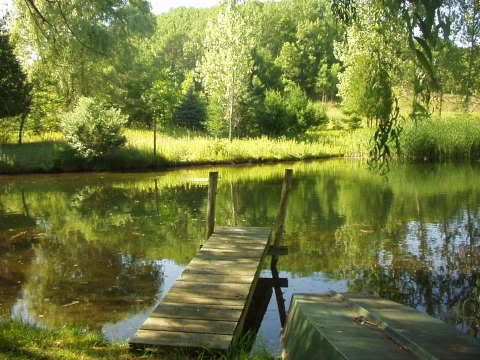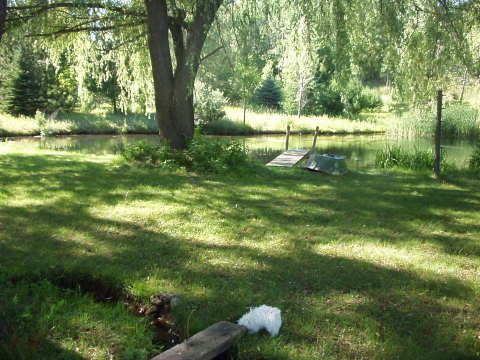 Here is the stream and the other side of the house: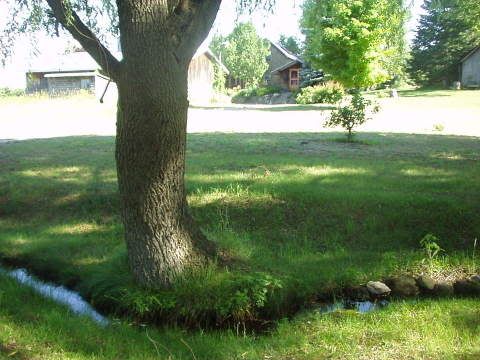 And here are the dogs. Drew calls them "the Tinies". They're much nicer and way more fun than my dog who snaps at everyone but Drew and me and isn't much of a frolicker. We would like to make a switch but my mother is very selfish and refuses to trade out...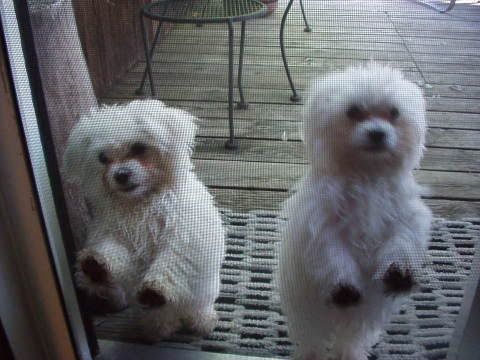 Drew says that he is going to run around in the yard with the Tinies while I spend hours in front of the computer. He thinks that I am addicted to myspace and I don't know what the hell he is talking about!
Here is one of the many nearby beaches we will be frequenting. The girl in the photo is our friend's daughter Stella. Stella rocks. Well, as far as children can--you all know how I feel about kids, which is, shall we say, lukewarm.
The beaches around there rock as well. People who say Lake Michigan isn't a real beach have never been there, which is part of the reason I am posting this little blog. So I can just point to it instead of explaining all the time. Great Lake beaches don't have the waves that the ocean does, and they're fresh water, but they are still pretty delightful. The area I come from is very clean and my mom knows all kinds of secret spots where very few people go.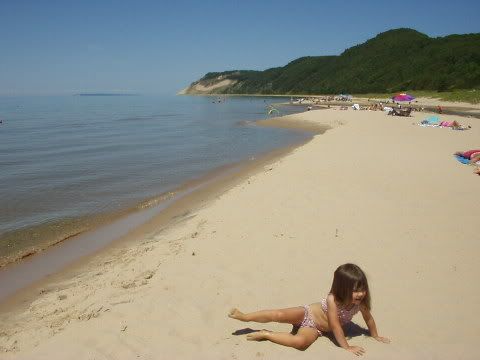 My sister has a new son named Alexander who also rocks. The baby is one year old now so we will be bringing him to the beach this year. I am not one for tanning so I plan on shoving Alexander out from under the umbrella when my sister isn't looking, so that I can get under there and protect my pale skin and tattoos. I figure he's young and can afford the UV damage more than I can.
Here is a photo of me being maternal with Alexander. I have found that imbibing moderate amounts of liquor makes children much more enjoyable. That is my brother behind me also, um, enjoying the baby...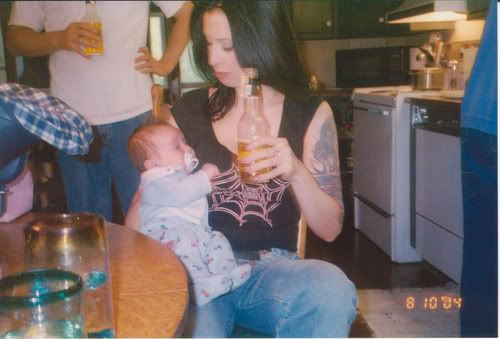 Here is a photo of my brother. He won't be there this year because he's playing guitar on a cruise ship, but I thought I'd throw his photo in just because he's such a dork...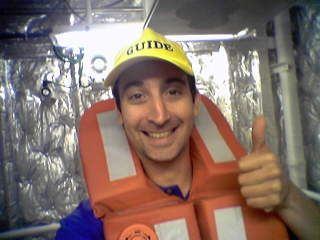 So that's all the photos I have and thus is the end of my little Michigan pictorial. I am in desperate need of a new camera but maybe I can borrow one and get some photos this year. Or maybe I will be far too lazy and overfed to even bother.
In the meantime, feel free to email but I won't be able to get IM's out there. Which is probably a good thing.
Mwah!